Mark Zuckerberg's preparation for a possible showdown with Elon Musk seems to have landed him in hot water with his wife, Priscilla Chan.
The billionaire tech mogul recently had an Octagon installed in his backyard, hoping to sharpen his fighting skills just steps away from his living room.
However, when Zuckerberg proudly showed off the new fighting arena to his significant other, the reaction was far from what he expected. Instead of being thrilled about his fighting ambitions, Priscilla appeared to be less than pleased with the surprise addition to their home. It seems like Zuckerberg's plans for combat training may lead to him spending some nights on the couch as he tries to mend fences with his wife.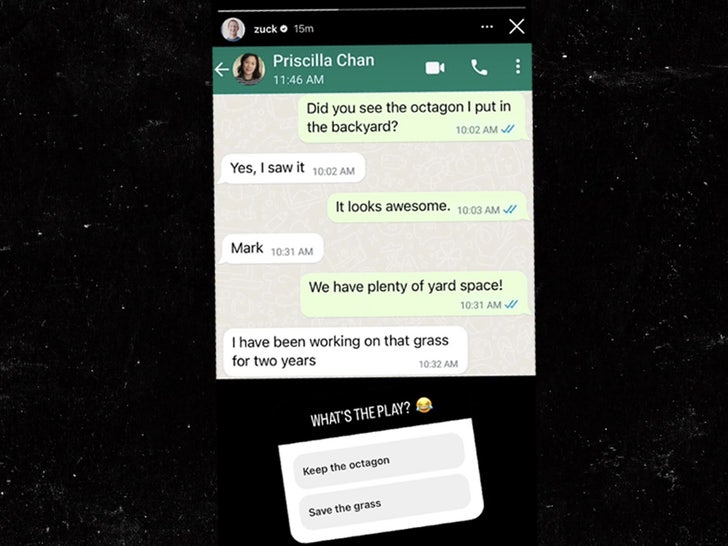 "It looks awesome," he said over text to Chan ... adding, "We have plenty of yard space!" when he noticed she wasn't exactly thrilled over it.
That's when, however, she dropped a bomb on him ... saying, "I have been working on that grass for two years."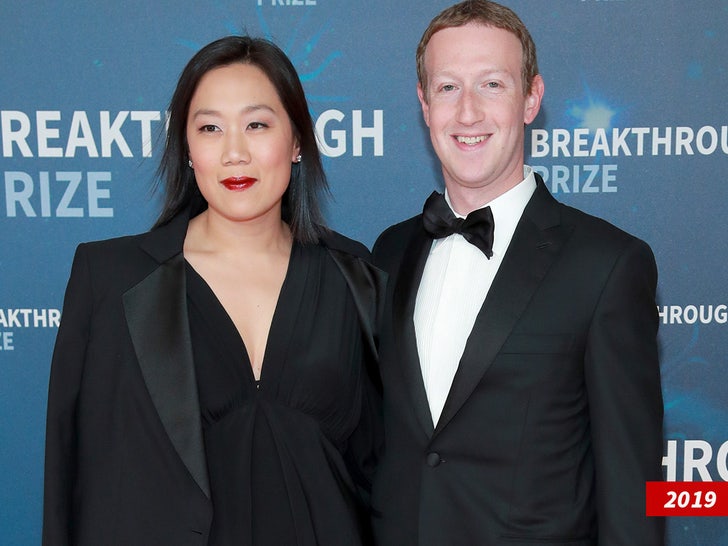 Seems Zuck knows he now needs to at least consider getting rid of his new training toy ... because he posted a poll asking his followers whether he should "Keep the octagon" or "Save the grass."
UFC welterweight contender Gilbert Burns quickly showed whose side he is on by inviting himself over for a training session.
He wrote on Threads: "I'm coming!"
Zuckerberg replied: "Would love to train with you sometime!"
In 2020, the 39-year-old Mark Zuckerberg discovered his passion for MMA. Despite his wife, Priscilla Chan, not being a fan of fighting, she has been supportive of his new interest. They were spotted attending a private UFC event together last October, sitting in the front row with Dana White for a UFC APEX card.
During the event, Zuckerberg was visibly excited, cheering on the fighters with a massive grin on his face. On the other hand, Chan seemed uncomfortable during a particularly brutal fight, covering her eyes.
Since then, Zuckerberg has been contemplating making his MMA debut. Earlier this year, he surprised everyone by participating in a BJJ competition, where he won two medals and was promoted to Blue Belt.
A potential fight with Twitter owner Elon Musk has been discussed. Both social media rivals agreed to clash in the UFC, and preparations were set in motion for what could be the biggest pay-per-view event ever. Zuckerberg trained with current UFC champions Alexander Volkanovski and Israel Adesanya, while Musk worked out with retired legend Georges St-Pierre.
Although talk about their fight has cooled off recently, Zuckerberg's decision to install an octagon in his backyard shows his commitment to serious training.
We may see him step into the MMA arena next year, whether it's against Musk or another opponent.
✅ Free online/print business listings