Marvel fans have been thrilled since the announcement of Hugh Jackman's reprisal of the role of Wolverine in Deadpool 3. Their excitement has only continued to grow as the actor recently took to Twitter to share his preparation for the role.
In fact, Jackman wasted no time in getting started, commencing his training just a few days after the announcement in September 2022. He has since been transparent about the hard work and dedication he has put into preparing for the role.
In addition to reaching significant workout milestones, Jackman has also incorporated some lighthearted fun into his preparation for the role. He has poked fun at Ryan Reynolds backstage at The Music Man on Broadway and has teased that he will be "bigger than ever" when he returns to the role.
The actor has continued this trend and recently shared a new video on Twitter to further excite fans.
Prep for Jackman's Wolverine Return
Ahead of his highly anticipated return as Wolverine in Deadpool 3, Hugh Jackman shared a workout video on Twitter as he prepares to reprise his role.
Captioned "I'm #becomingwolverineagain.," the tweet showcases Jackman working out as his trainer hypes him up and encourages him.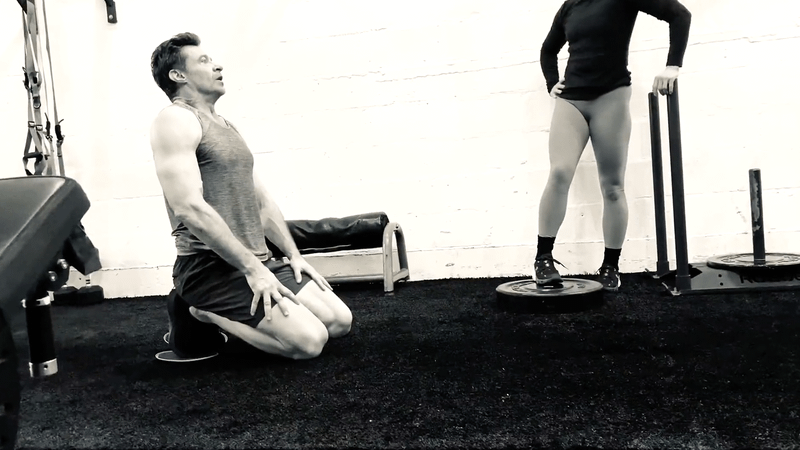 He thanked his trainer, gave a sarcastic "good afternoon," and breathed before preparing to do the workout again.
Watch the full video below:
I'm #becomingwolverineagain. pic.twitter.com/nizjWFTrID

— Hugh Jackman (@RealHughJackman) March 15, 2023
Hugh Jackman's intense preparation for his comeback as Wolverine in Deadpool 3 suggests that the character won't be sitting on the sidelines when it comes to action. With both Deadpool and Wolverine renowned for their healing abilities and love of risk-taking, it seems almost certain that audiences will be treated to some explosive fight scenes.
From the humor to the adrenaline-fueled action, it's clear that Deadpool 3 is shaping up to be a thrilling ride, and Jackman appears to be leaving no stone unturned in his preparation for it. It's safe to say that fans of both characters will not be disappointed.
The eagerly anticipated Deadpool 3 will be hitting theaters on November 8, 2024.
Join our Patreon to get:
✅ Free online/print business listings
✅ Free eMags
✅ Free online seminars
✅ Article suggestions