Following the catastrophic wildfires in Maui, Dwayne "The Rock" Johnson and Jason Momoa are using their voices to raise awareness and provide assistance, while also delivering pointed words of advice to those not directly affected by the tragedy.
These two prominent figures in Hollywood, both with deep ties to Hawaiian heritage, have made public statements over the weekend, addressing the devastation that has struck Lahaina. The fire's toll has grown, with the death toll nearing 100 and several individuals still missing.
Jason has been posting about it all weekend, and he's plugging an organization called the Hawai'i Community Foundation ... specifically, a fund they've created to help the victims of Maui. In addition to the laying out a roadmap to resources, he's got a clear message.
To all tourists considering traveling to Hawai'i, especially Maui, JM is saying ... stay away.
He writes in no uncertain terms, "Maui is not the place to have your vacation right now. DO NOT TRAVEL TO MAUI. Do not convince yourself that your presence is needed on an island that is suffering this deeply. Mahalo to everyone who has donated and shown aloha to the community in this time of need."
Might sound like a no-brainer, but there've been on-the-ground reports of folks/tourists still frolicking in the area and enjoying their vacays, right in the middle of this disaster.
Heavy heart the past couple days hearing from relatives and friends from Maui.
Tourists, pls be respectful and let Lahaina grieve and heal.

Cuz What the actual Fck is wrong w some ppl SMH pic.twitter.com/nBBctECukd

— Noweez (@Brewin07) August 12, 2023
A specific video has gained substantial viral traction, capturing a group of tourists seemingly taken out to sea near Maui by an excursion company. The footage showcases a photographer admonishing them for their seeming lack of sensitivity to the surrounding deadly situation. Subsequently, the company in question issued an apology, expressing their intention to donate the proceeds from the incident to charity. Moreover, they've decided to suspend their operations temporarily, a decision that is undoubtedly prudent given the circumstances.
Meanwhile, Dwayne Johnson has also taken a stance on the crisis, urging people to direct their attention to the Hawai'i Community Foundation Maui Fund. He emphasized that contributing to this fund would greatly assist in the recovery of the community, which is still grappling with the aftermath of the fires.
The Rock writes, "Heartbroken but our faith and mana is strong. First responders, health care teams, hotels, locals businesses, boots on the ground organizations and all our local heroes, stay strong - we love you and appreciate you."
He adds, "All our local families, our ohana, our aiga, stay strong thru this devastating time. Resilience resolve is our DNA. Our ancestors are in our blood. This is who we are. This is what we do. I love you. Stay strong. More to come."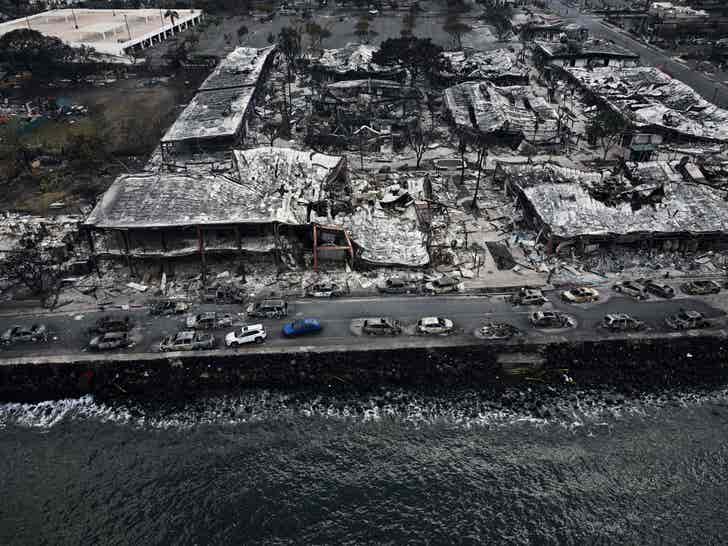 Other celebrities are also joining the conversation, with "Moana" star Auliʻi Cravalho leading the charge by directing individuals to valuable resources. Notably, figures like Jeff Bezos and Oprah are making significant contributions, whether through substantial financial donations or other impactful methods.
These are undoubtedly challenging times, but the collective efforts of Hollywood are uniting to aid in the process of rebuilding and recovery to the best of their abilities.
✅ Free online/print business listings