After much speculation about Emilia Clarke's character in the upcoming Marvel series Secret Invasion, the studio has officially confirmed her role.
Despite appearing in the Secret Invasion trailer, Marvel had previously remained tight-lipped about her character's identity, with fans speculating that she could be a Skrull from the comic books or play the role of SWORD agent Abigail Brand.
However, following the announcement of Secret Invasion's release date, the studio has finally revealed that Clarke will be playing a yet-to-be-named character in the highly anticipated Disney+ series.
As shared via Vanity Fair, Marvel announced that Emilia Clarke's character in Secret Invasion is someone who has already appeared in the MCU: G'iah, Talos' daughter.
G'iah was last seen as a young girl in 2019's Captain Marvel.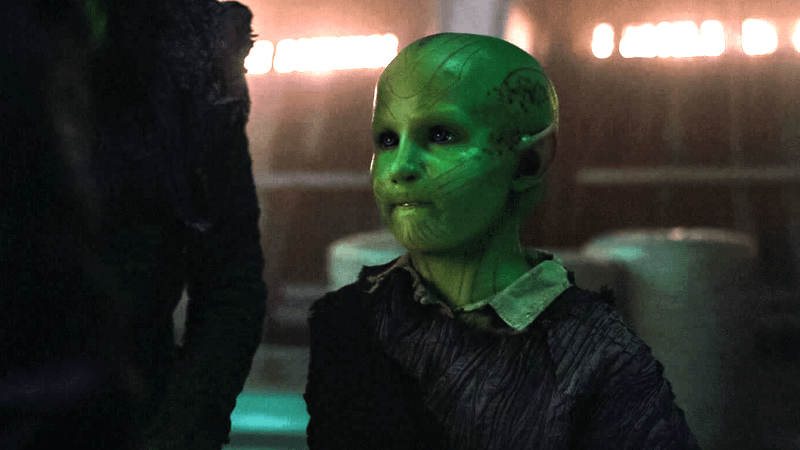 During a recent interview, Samuel L. Jackson, who plays Nick Fury in the Marvel Cinematic Universe, referred to Emilia Clarke's Secret Invasion character as "the little Skrull girl grown up." He then went on to reminisce about the scene in Captain Marvel where Ben Mendelsohn's character, Talos, was reunited with his Skrull family:
"Remember when (Talos) was there with his wife and daughter? She's the little Skrull girl grown up. She's his daughter."
Emilia Clarke's Captain Marvel Connections 
Although many believed Clarke would be playing Abigail Brand after an official Tenor GIF of the Secret Invasion actress seemingly spoiled the news, it turns out the rumor claiming Emilia Clarke is playing the Skrull, G'iah, was correct. 
It's possible that Clarke is portraying both characters, with her true identity being G'iah and her false human persona being Brand. This theory gains support from the fact that Abigail Brand is present in the "Secret Invasion" comics when the Skrulls attack the S.W.O.R.D. headquarters.
While it remains to be seen whether this theory holds true, it appears that Talos, played by Mendelsohn, and G'iah, played by Clarke, may be on opposite sides when the series begins. Additionally, G'iah's story seems to follow a similar trajectory to that of Monica Rambeau, who, like G'iah, was young during the events of Captain Marvel and has become disillusioned with her aunt Carol Danvers.
Furthermore, G'iah and Monica actually met and played together at the end of the 2019 film, which could potentially pave the way for a Monica cameo in "Secret Invasion" or for G'iah to appear in "The Marvels" later this year.
Secret Invasion debuts Wednesday, June 21 on Disney+.
✅ Free online/print business listings